Author Archive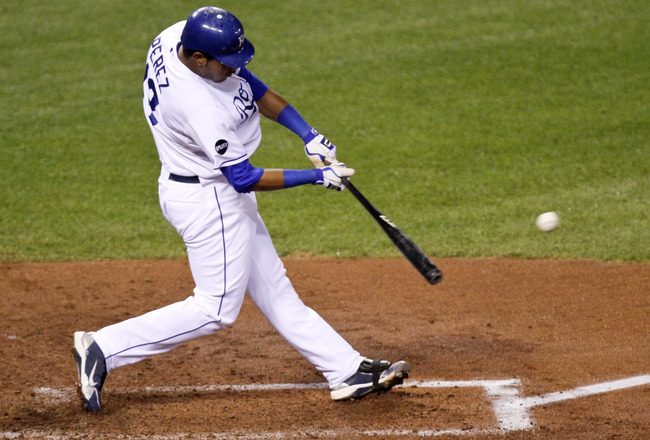 Salvador Perez suffers knee injury
A tough blow to Perez, who will miss 4-6 weeks after knee surgery to repair a meniscus tear.  The young catcher was one of my top sleepers for the '12 season. Now it's likely that he'll miss all of April by the time he gets back into action and completes a rehab assignment.  I would still draft Perez in deep mixed and AL-only leagues and stash him on the bench.  His bat should be worth it once he returns.  Perez maintained an excellent contact rate in the Minors and should be able to hit for average with the Royals.  That's a rare skill for a young backstop, and if the 21-year-old can hit a few balls over the fence, Perez will be a top-15 catcher by the second half of the season.
Nats should send Harper to Minors
As most expected, Bryce Harper isn't ready to win a starting job in the Majors.  A calf injury hasn't done him any favors, and reports this week indicate that the Nats are leaning towards sending the future star to the Minors at the end of Spring Training.  It's a move that makes a lot of sense.  Harper will one day be the centerpiece of the team's lineup but asking him to play a regular role at 19 isn't fair.  Keeper league owners can continue to stash Harper and NL-only owners can consider finding a spot on the bench and hoping for a midseason recall.  But, mixed league owners can make better use of their bench, by looking for players who can offer more immediate help.
Turner shut down
The Tigers top pitching prospect has been shut down for a few days because of "dead arm".  It's likely the last straw in a failed bid to win a rotation spot.  Despite the hype that surrounds Turner, it was starting to look that he was going to start the season in the Minors anyways.  This injury will set the lanky right-hander back a couple spring starts and should ensure a demotion at the end of March.  Turner will still likely make some starts in the Majors this season but they won't be coming in April.  He should start the season on waivers in all mixed non-keeper leagues.
Could Wright miss Opening Day?
David Wright got a cortisone shot in his ailing rib cage on Monday but the Mets are saying that they aren't worried about having their star slugger back for Opening Day.  I think it's time for fantasy owners to at least downgrade Wright a little bit.  At best, he'll be ready for the opener, after playing very little in Spring Training.  That's not a great recipe for a turnaround after a subpar '11 season.  At worst, Wright will suffer another setback and will start the season on the DL.  Core injuries tend to linger and it's certainly possible that Wright could tweak the injury while swinging the bat in the coming weeks.  Based on ADP, Wright was considered a cut above third baseman such as Brett Lawrie and Pablo Sandoval in early '12 drafts.  This injury should move him back to the middle of that tier.
A pair of Rays collide
Well, we have to give them credit for trying during Spring Training!  Rays outfielder Desmond Jennings and B.J. Upton had a nasty collision in the field on Wednesday that left both players shaken up.  After the game, manager Joe Maddon tweeted that both players were fine, and suffered no serious injuries.  It appeared that Upton got the worst of the contact, but I expect to see both players back on the field in a few days.  Entering his walk year, Upton has a big reason to be more focused on a daily basis this season.
Hamilton's heel hurt
Rangers star slugger Josh Hamilton suffered a jammed right heel when chasing down a fly ball on Wednesday.  The injury isn't considered serious and even if Hamilton misses a week of spring action, it won't affect his availability for Opening Day.  But, the injury is another in a really long line for this talented hitter.  Few would dispute that if Hamilton can play 150 games, he would be one of the top 15 fantasy sluggers this season.  Hitting third in a loaded Rangers lineup, it would be hard for Hamilton not to put up great numbers.  But, the 30-year-old will likely spend more time on the DL this season.  Like Upton, Hamilton is in the final year of his contract and will be angling for a massive payday next winter.  If there was ever a year for the former top pick to tough it out and play through his minor aches and pains, this is it.  I'm optimistic that he can outperform his current draft spot (roughly 30th overall), while acknowledging that he is one of the riskiest early round options.
Chris Perez may make it back
Vinnie Pestano immediately become a popular late round pick, when Perez suffered an oblique injury early in Spring Training.  It was assumed by most that the Tribe's closer wouldn't make it back for the start of the regular season and Pestano would pick up some saves.  But things are now looking better for Perez, who is scheduled to throw a bullpen session on Friday.  If he doesn't suffer any setbacks, he could be on the hill against the Blue Jays on Opening Day.  He could be undervalued in upcoming drafts.