2013 LABR Mixed League Draft Preview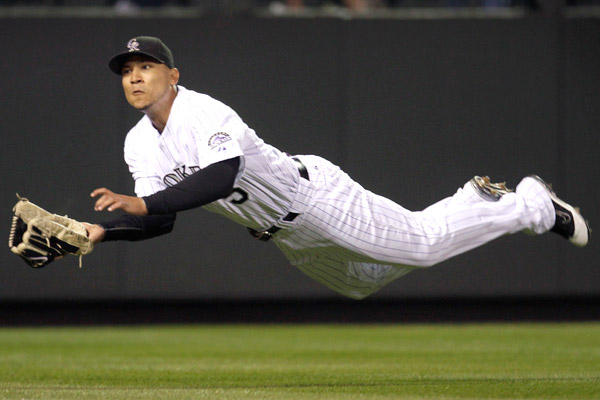 Most fantasy baseball owners are just starting to wrap their heads around a winter that was full of major signings and multi-player trades.  But those of us who work within this industry have been hard at work for the past three months, producing the magazines, podcasts and online previews that drive the world of fantasy baseball.
The majority of leagues will hold their drafts and auctions in late March.  That's the best time to draft.  It eliminates the possibility of having a well-drafted team ruined by multiple Spring Training injuries.  But in an effort to provide draft prep material for everyone else, fantasy baseball writers will often hold February drafts in an effort to gauge the market for various players.  With that goal in mind, the USA Today LABR Mixed League draft is set for Tuesday, February 12th at 8pm EST.  You can follow the draft live by clicking on the link here.  And you can view the league rosters once the draft has been completed by clicking here.
Expert leagues are terrific because they offer a full slate of tough competition.  Every owner in this league will be tough to beat, as they all work for major fantasy sports publications.  When you see names such as Zola, Collette, Gardner, Murphy and Heaney on the list, you know you are in for a tough ride.  I'm honored to be part of this group for the second time. 
Tuesday night's draft order was recently released.  I was hoping for a top-three pick.  Most fantasy writers agree that the first three spots offer an exciting place to start your roster this season.  Ryan Braun, Miguel Cabrera and Mike Trout have emerged as popular options for the No. 1 pick.  Trout offers the most upside, Cabrera is the most consistent and Braun offers the best balance between upside and consistency.  In over 90% of 2013 drafts, all three of these players will be off the board before pick four takes his first turn. 
I'll be picking out of slot No. 10.  I don't mind that spot.  It keeps me fairly close to the middle of the pack, so I won't miss out on any position runs in the middle rounds.  And after the Braun, Trout and Cabrera are off the board, there isn't a tremendous difference in the next 6-9 options.
It's obvious that I won't have a shot at the "Big Three", and early 2013 drafts have shown a few other players who won't be available by pick ten.  In most drafts, some combination of Robinson Cano, Matt Kemp and Andrew McCutchen come off the board in picks 4-6.  So I can kiss them goodbye too!  Albert Pujols rarely makes it all the way to pick 10 and neither does Joey Votto.  There is a slight chance that Votto could slide because of his 2012 injury woes.  But his elite, consistent skills will probably warrant a selection around pick 7-9.  
That makes eight players who should be gone by the time I make my first pick.  But the good news is that I will have my choice of almost everyone else.  The back end of the first round is a jumbled mess this season and there are plenty of interchangeable pieces once you get past the first eight or nine selections.  Here are the players I'm considering with my first pick:
Carlos Gonzalez offers a nice blend of speed and power to start building a roster.  He should be a 20-20 player and he has 30-30 potential.  Having Coors Field at his disposal for 81 games gives Gonzalez a great chance to drive in 100 runs.  But there is some downside with Gonzalez.  He acquires his fair share of bumps and bruises during the season, and usually ends up on the DL at some point.  It's hard to spend a first round pick on a player who is expected to play 135-140 games instead of 150+.  Gonzalez may also be hampered by a weak supporting cast.  The Rockies didn't add anything significant to a lineup that struggles to score runs on the road last season. 
Jose Bautista may be the biggest boom-or-bust option in this year's first round.  His 2012 wrist injury eventually required surgery.  Players coming off wrist surgery are hard to predict in terms of power numbers.  And without power numbers, this right-handed slugger is pretty useless.  But if his wrist is fully healed, then look out!  A healthy Bautista is a lock for 40 homers and could swat over 50.  No player received more help from his organization this winter than Joey Bats. The addition of Jose Reyes and Melky Cabrera will give Bautista a chance to drive in more runs than ever before.   120 RBIs wouldn't be surprising if his wrist if ready to go.  And with Edwin Encarnacion mashing right behind him, Bautista could cross home plate at least 100 times.  There's so much potential here, but I typed the word "wrist" four times in that paragraph, so you know the risk.
Justin Verlander is a no-go in the first round for many fantasy owners, simply because of the position he plays.  Many owners would rather become A-Rod's publicist than start their draft with a pitcher.  But I'm not one of those owners.  I'm willing to spend a first-round pick on a hurler and then load up on hitters in the following rounds.  The hard-throwing right-hander is an amazing combination of skill and durability.  Of all my options, he might be the safest one.  It's almost a lock that the Tigers ace will toss over 220 innings and punch out roughly a batter per inning.  Verlander also pitches for one of the best teams in baseball, and he is in a division where the second place team may struggle to win 85 games.  18 wins seems like a lock and 20 is still a very reasonable prediction. 
Prince Fielder was very successful in his first tour of duty on the Junior Circuit.   Cecil's son is a lock for 30 homers and could push his total closer to 40 now that he has had a year to learn about American League pitchers.  Sandwiched between Miguel Cabrera and Victor Martinez, the California native will have a good chance to drive in and score 100 runs.   He doesn't have the 30-30 potential of CarGo or the 45-homer potential of Bautista, but Fielder is a safer bet for a 30-100-.300 campaign.
Justin Upton seems like an odd choice for the first round, but that's where he is going in many 2013 drafts.  On the surface, an outfielder who played 150 games last year and couldn't manage to smack 20 homers or swipe 20 bags doesn't warrant a first-round pick.  But Upton oozes potential and he was outstanding in 2011.  Many fantasy owners are hoping that his move to Atlanta will spark a resurgence from the 25-year-old.  We likely haven't seen Upton's best season, and it could come as soon as 2013.
Troy Tulowitzki is a rare breed – a shortstop who can post a 30-100-.300 season.   If he can stay healthy in 2013, he could dominate his position as much as anyone.  But his health is a huge question mark.  The 28-year-old logged just 181 at-bats last season and hasn't played 150 in games in any of the past three campaigns.  The 28-year-old might be too risky for my blood, but his upside is something that can't be ignored at pick No. 10.
Buster Posey is similar to Tulowitzki, in that he could provide a clear-cut top option at his position.  While many fantasy owners pull their hair out trying to find two viable catchers throughout the season,  Posey owners could be laughing all the way to a 25-100-.300 season.  But the 25-year-old plays the most grueling defensive position in baseball, and he left fantasy owners high and dry when his duties behind the plate caused him to miss over 100 games in 2011.  The track record for first-round backstops isn't great and I will likely let someone else take this gamble.
No matter who I end up drafting, Tuesday night is going to be a good time and that's what it's all about!  What could be better on a cold, February day than to snuggle up to your favorite laptop and start think of the warm, sunny days that baseball brings.  I'll be back next week to recap the highlights of Tuesday's draft.